Goldilocks and the Three Bears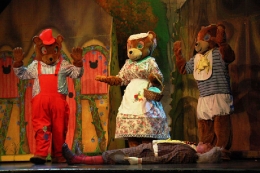 Photo Gallery
Video Gallery
No videos available at this time
Artist Information
Exclusively represented to
All venues in North America (some territories and venues are in cooperation with another agency)
Related Categories
Biography
Goldilocks and the Three Bears - Life is peaceful in The Enchanted Forest, home to Daddy, Mummy and Baby Bear. Even their unexpected guest, Goldilocks quickly becomes Baby Bear's best friend.
Goldilocks lives with her step mother, Baroness Sneer, who owns The Enchanted Forest. However, the Baroness has a secret: she collects fur coats - and only needs one type of fur to complete her wardrobe...Baby Bear fur!
This interactive adventure is a must for any venue. With original songs, stunning sets, and incredible costumes - Goldilocks and The Three Bears will delight young and old alike.

For grades 3-7

Produced by The Panto Company USA, it features the full stage sets, set changes and amazing costumes Panto is internationally known for.
Also Visit: www.thepantocompanyusa.com
Home location / airport
Global Region
North America
Performance Details
Duration in minutes: 60
Available breakdown: 1/60
Availability
Please call or email with your dates of interest and we will verify with artist.
All images, audio, and video are copyrighted by their respective copyright owners.