The Ultimate Elvis Tribute Artist Experience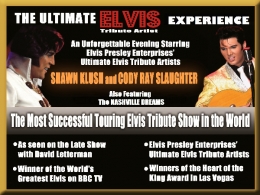 Photo Gallery
Video Gallery
Artist Information
Related Categories
Winner of BBC TV's 'World's Greatest Elvis' and Elvis Presley Enterprises 'First Ever' Ultimate Elvis Tribute Artist! As seen on the Late Show with David Letterman.

"This show has a 5-STAR rating with Ticketmaster!"
Biography
THE ULTIMATE ELVIS Tribute Artist EXPERIENCE is the most successful touring Elvis tribute show in the world. It is an amazing era by era tribute to the King of Rock-N-Roll, ELVIS PRESLEY, starring two of the best Elvis tribute artists in the world, SHAWN KLUSH and CODY RAY SLAUGHTER! Each artist can also be booked separately to accommodate almost any venue size and budget.

Shawn Klush: Born and raised in the small coal-mining town of Pittston, Pennsylvania, Shawn's love for music led him to begin imitating his musical idol, Elvis Presley. He performed in the famous Poconos region followed by a tour of Canada where he entered and won the $5,000.00 prize in the "Worldwide Elvis Competition" in Montreal. This caught the attention of the award winning Las Vegas show, "Legends in Concert" where for many years he starred as 'Elvis' in their Myrtle Beach, Las Vegas, Branson and Atlantic City show rooms. Each January he stars in the "Elvis Birthday Tribute Tour", an extravaganza with Elvis' own musicians, singers, and friends, in major venues in multiple cities.
Shawn has released 5 CDs. He has performed with Elvis' closest friends, musicians and singers such as JD Sumner and the Stamps Quartet, The Jordanaires, The Imperials, DJ Fontana, Charlie Hodge, Jerry Scheff, The Sweet Inspirations, Joe Guercio, Jerry Schilling and Joe Esposito. He portrayed Elvis in the hit TV miniseries "Shake, Rattle and Roll" which aired on CBS and VH1.

On Elvis' 70

th

Birthday, Shawn became grand champion at the $25,000.00 "World Elvis Tribute Artist Competition". He then received "The Peoples Choice Award" from Gibson Guitar Co in Nashville for

"Best Concert Elvis".

Shawn was then named the "World's Greatest Elvis" by 6.5 million international viewers on BBC1 Television in the United Kingdom. Finally, on August 16th, on the 30

th

anniversary of Elvis' passing, Shawn was named the 'First Ever'

"Ultimate Elvis Tribute Artist"

by

Elvis Presley Enterprises

in Memphis TN.

Shawn

has record breaking performances in the US, Switzerland, Canada Australia, the UK and South America. He was named

"Worldwide Ambassador of Elvis"

at the

L

as

V

egas

H

ilton where he headlines the annual the Las Vegas Elvis Fest, celebrating Elvis' historic Las Vegas Performances.

Shawn was a featured performer on

the Late Show with David Letterman

performing to over 5 million viewers with the entire CBS Orchestra on Network Television and in 2016 will portray Elvis in the new HBO series called Vinyl produced by Martin Scorsese and Mic Jagger. Shawn Klush is "The Closest Thing to the King in Concert"
Cody Ray Slaughter

: Cody is hailed as one of the most talented, young Actors, Singer and Elvis Tribute Artist in the country. Born and raised in Harrison, Arkansas, gateway to the beautiful Ozark Mountains, Cody Slaughter began entertaining at the young age of 13. A true Southern boy, Cody's true passion for Elvis' music and memory has directed his career path.
Cody has performed all across the country as "Elvis" in the traveling production of the Tony Award-winning sensation "Million Dollar Quartet" and was nominated as best featured actor for his role. Slaughter has performed in many theaters in Branson, MO, such as Tony Roi's Elvis Experience, Legends In Concert, 50's At The Hop and The Liverpool Legends as well as in Pigeon Forge, TN where Cody was the featured entertainer at The Tennessee Shindig for over a year at the young age of 17. Cody also appeared on MTV's "My Super Sweet 16" and "Late Night with David Letterman" Slaughter has performed at special events, corporate functions, and entertainment venues throughout the United States, Canada and the UK. His uncanny portrayal of Elvis Presley exhibits his amazing love for who he calls, "the greatest entertainer of all time".
Among some of Cody's most exciting accolades were winning The People's Choice Award during Elvis Week 2008. In July of 2011. At the Las Vegas Elvis Fest, Cody received The New Horizon Award for
best new Elvis Tribute Artist
. The award was given on the same stage where Elvis made history at the Las Vegas Hilton.
Representing Tupelo, Mississippi (Elvis' Birthplace) Elvis Presley Enterprises' named Cody
the 2011 'Ultimate Elvis Tribute Artist"
in Memphis TN in 2011.
Cody Slaughter has the raw talent and passion that Elvis himself exhibited when he first started. Apart form his tribute to Elvis, Slaughter has a budding career as a country music singer and songwriter. But in spite of his repertoire and building a reputation with his own music Slaughter still says "My greatest joy is when I'm paying tribute to Elvis, his music and keeping his spirit alive with his fans"
Home location / airport
Global Region
North America
Performance Details
Duration in minutes: 90
Available breakdown: 2/45
Availability
Please call or email with your dates of interest and we will verify with artist.
All images, audio, and video are copyrighted by their respective copyright owners.