Justin Wood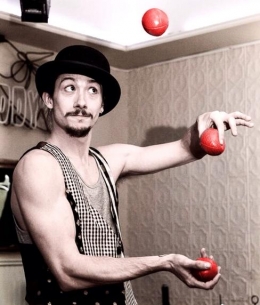 Photo Gallery
Video Gallery
Artist Information
"The Best Entertainment for both kids and adults since PIXAR!"
- The New York Times
Exclusively represented to
All Cruise Lines
Related Categories
This act performs with TWO people (Justin & his lovely assistant)
Biography
"Justin Wood Circus Is The All-Around Circus Professional!"

Raised in Louisville, Kentucky until the age of 15 when he moved New York City. There he made a quick jump onto the Circus Arts Scene with Natural Talent & Personality. He hasn't looked back since.
"With Great Ambition, Motivation, Discipline and Determination, It's hard sustaining the Momentum needed to keep up with this guy."

"Justin Wood is Going Places!"
Home location / airport
New York, NY (JFK)
Global Region
North America
Performance Details
Duration in minutes: 90
Available breakdown: 2/45
Availability
Please call or email with your dates of interest and we will verify with artist.
All images, audio, and video are copyrighted by their respective copyright owners.