Justin Wood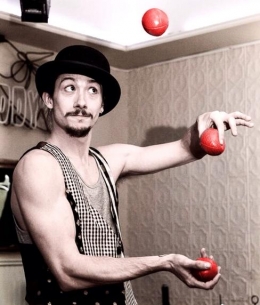 Photo Gallery
Video Gallery
Artist Information
"The Best Entertainment for both kids and adults since PIXAR!"
- The New York Times
Exclusively represented to
All Cruise Lines
Related Categories
This act performs with TWO people (Justin & his lovely assistant)
Biography
"Justin Wood Circus Is The All-Around Circus Professional!"

Raised in Louisville, Kentucky until the age of 15 when he moved New York City. There he made a quick jump onto the Circus Arts Scene with Natural Talent & Personality. He hasn't looked back since.
"With Great Ambition, Motivation, Discipline and Determination, It's hard sustaining the Momentum needed to keep up with this guy."

"Justin Wood is Going Places!"
Home location / airport
New York, NY (JFK)
Global Region
North America
Performance Details
Duration in minutes: 90
Available breakdown: 2/45
Availability
While every attempt is made to encourage each artist to keep their availability and from/to locations current, due to the nature of show business, it is not always possible to maintain 100% accuracy. Please keep this in mind when considering dates to make offers. The sooner you are able to make an offer the better so that we may secure the dates for you.
| | | | |
| --- | --- | --- | --- |
| From | Location | To | Location |
| 12/03/2020 | New York, NY (JFK) | 01/31/2021 | New York, NY (JFK) |
All images, audio, and video are copyrighted by their respective copyright owners.