Cirque Fantastique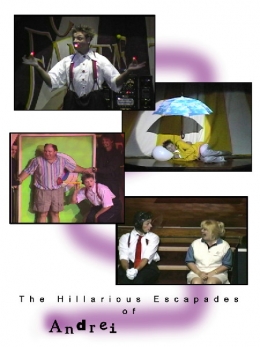 Photo Gallery
Video Gallery
No videos available at this time
Artist Information
Related Categories
Biography
The Soumiatin Family has been entertaining people around the world for more than twenty years, bringing them joy and laughter from their heart.
Marina is a classically trained ballerina, and has danced and toured the world with the famous Bolshoi Theater, including an extended performance at the legendary La Scala Theater in Italy.
Andrei, International Circus Festival Gold Medal Winner at Sarasota, FL, formerly an acrobat and comedy juggler with the world renowned Moscow Circus, has toured the globe and was featured at Radio City Music Hall in New York.
Andrei and Marina are winners of "Specialty Performers of the Year" award, and the show "Cirque Fantastique" that they created was named "Best Dinner Show of the Year" by the All American Entertainment Awards.
Anthony Soumiatin is the USA National Unicycling Champion and winner of "Best Young Artist" award in Branson, MO. Just recently he was inducted into "Ripley's Believe It or Not" for his amazing unicycling ability.
Together this critically acclaimed family has traveled from London to Miami, from Las Vegas to Branson creating show stopping originality. Andrei and Marina have successfully produced, directed, and choreographed several shows in Russia and the United States. Andrei and Marina are currently working at the Showboat Branson Belle for their sixth season. They have established themselves as hardworking, honest, and reliable people. The Soumiatin Family have been featured on numerous international and national TV and radio stations, including "700 Club" with Pat Robinson and Paul Harvey's "The Rest of the Story."
Home location / airport
Hollister, MO
Global Region
North America
Performance Details
Duration in minutes: 60
Available breakdown: 1/45 & 1/15, or 2/30
Availability
Please call or email with your dates of interest and we will verify with artist.
All images, audio, and video are copyrighted by their respective copyright owners.