Switch, Back to the 80's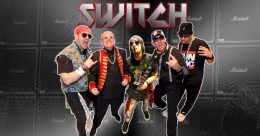 Photo Gallery
Video Gallery
Artist Information
"Thanks a million for a great night. The comments last night & this morning are awesome! People absolutely loved the music and the chance to participate. HOMERUN!"
- Mike W. - Gaylord Palms Resort & Convention Center
"We have never seen a crowd react as they did that night to a band. It was a ROCKING SUCCESS! These top-rate musicians/performers are sure to please, entertain, and bring down the roof on your next event."
- Brenda D. - Sr. Meeting & Event Planner
"Booked numerous times for events and they have never disappointed. Songs everyone loves plus a stage show loaded with energy and excitement. The dance floor is always packed to the very end - their energy is infectious!"
- Aaron S. - CMP
"I've seen a lot of bands, but SWITCH and their show "Rock The Decades" is absolutely phenomenal. Don't miss these guys, make sure you see them any chance you get."
- Matt Johnson, Intl. Illusionist/Escape Artist
Exclusively represented to
All Cruise Lines
Related Categories
Biography
SWITCH Back to the EIGHTIES
This band is like riding in a DeLorean, about to hit 88 MPH!
They are right out of the 1980's. A high energy party band from Orlando, Florida
They have shared the stage with Rick Springfield, Tears for Fears, STYX, Berlin, Loverboy, plus others.
You will be dancing like it's 1985 and partying like a rock star.
SWITCH has entertained audiences throughout the country with their unique style and high-energy party live shows for over a decade. Made up of talented and highly creative entertainers, they have stunned audiences with their brand of interactive music and visual performances. The set list delivers hit after hit from the last five decades, a little something for everyone. You will know the words to every song!
People don't just watch the band during the event - they become connected to the music and involved in the show. "It's not about us, it's about the people in the audience and we make sure everyone has a great time!" From a large themed corporate event to a small party, SWITCH Entertainment delivers.
DANCE PARTY BAND
DRESSED IN RETRO / THEMED COSTUMING
VERY INTERACTIVE SHOW – DANCING, CROWD SING ALONGS
PLAYS THE BEST - ROCK, POP, DANCE AND PARTY MUSIC FROM THE 80'S, 90's through TODAY!
ALTERNATE VARIATIONS (same members): THE BIG BAND THEORY, NERD RANGER, SWITCH INTO THE NINETIES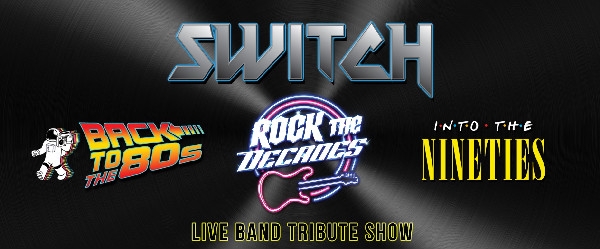 Home location / airport
Orlando, FL (MCO)
Global Region
North America
Performance Details
Duration in minutes: 240
Available breakdown: 4/60
Availability
While every attempt is made to encourage each artist to keep their availability and from/to locations current, due to the nature of show business, it is not always possible to maintain 100% accuracy. Please keep this in mind when considering dates to make offers. The sooner you are able to make an offer the better so that we may secure the dates for you.
| | | | |
| --- | --- | --- | --- |
| From | Location | To | Location |
| 04/29/2022 | Orlando, FL (MCO) | 12/31/2023 | Orlando, FL (MCO) |
All images, audio, and video are copyrighted by their respective copyright owners.