Xavier Mortimer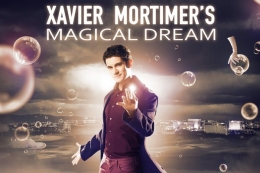 Photo Gallery
Video Gallery
Artist Information
"Phenomenal!"
- Howie Mandel - "America's Got Talent"
"Brilliant. Original illusions. Bravo!"
- Penn & Teller
"A literally enchanting show."
- Le Nouvel Observateur
"Xavier Mortimer takes us on an emotional roller coaster through a dazzling spectacle!"
- Le Pariscope
"We (the public) are taken back to our childhoods, in wonder and delight."
- Le Figaroscope
Exclusively represented to
All Cruise Lines
Related Categories
As seen on "AMERICA'S GOT TALENT," "THE NEXT GREAT MAGICIAN,"MASTERS OF ILLUSIONS."
Biography
Grown-up in the southwestern France, Xavier Mortimer packs up his suitcase to travel the world while creating shows that blend magic, circus acts, music and comedy. Xavier Mortimer studied at the Music and Dance Conservatory of La Rochelle, as well as the Desmond Jones Acting School in London and the Jacques Lecoq Acting School in Paris.
At the age of 15, he creates his first show, a combination of magic, mime and comedy. Thereafter, he wins several prizes for Magic (1st place at the Albano International Congress in Italy, Gold Star at the L'Eau d'Olle magic festival in France).
A truly complete performer, he is the recipient of several more international prizes for Magic rewarding his shows.
He achieves public recognition with his show » L'Ombre Orchestre » (The Shadow Orchestra) created in Avignon in 2006 and subsequently performed in Paris and worldwide more than 800 times. Xavier Mortimer is both the creator of and performer in visual shows that he presents internationally. What's more, he not only composes the music for his own shows, but for other shows as well. In 2012, he creates the character Sneaky for the newest Cirque du Soleil's show: ONE, which is currently performing in Las Vegas. Between 2013 and 2015, while performing in Vegas, Xavier has been a guest on mainstream TV shows all around the world and he is about to release his new magic show in 2016.
He currently headlines his own show on the Las Vegas strip while touring internationally and appearing on TV shows all around the world.
Home location / airport
Las Vegas, NV (LAS)
Global Region
North America
Performance Details
Duration in minutes: 45
Available breakdown: 1/45
Availability
Please call or email with your dates of interest and we will verify with artist.
All images, audio, and video are copyrighted by their respective copyright owners.