David Gatti (aka: David Cats)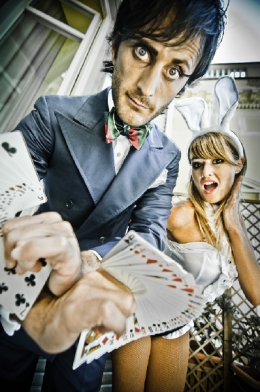 Photo Gallery
Video Gallery
Artist Information
Exclusively represented to
Princess Cruises & Holland America Line
Related Categories
David speaks: Italian, English, Portuguese, and Spanish.
Marcela speaks: Portuguese and English
Biography
David Cats is a master Illusionist, born in Venice, Italy.

Since the age of 5 David has been fascinated by the art of Wizardry and illusion. Throughout this time he has showcased his unique talents on numerous European Television shows and Satellite programs and completed tours of 3 different continents, performing in over 50 countries throughout the world. In 2007 he was asked to take part in the Television special "Masters of Magic" and in 2011 he was Nominated Best Entertainer of the Year - Princess Cruises.

David Cats is not only an illusionist of unique talent but also the designer of many of the extraordinary magical effects you see. His Italian charm, humor and incredible showmanship made his show one of a kind in the world of entertainment. A real international show tailored for the whole family to enjoy, and David has the ability to communicate with the audience in several languages including: English, Italian, French, German, Spanish and Portuguese.
David Cats recently brought his unique brand of magic and illusion on board various Cruise Ships, presenting two different shows, "The Magic Hotel" for theaters and big venues and "Magic Hands" for a more intimate atmosphere.

If you are locking for a truly remarkable Illusion Show you picked the right Artist.
Home location / airport
Las Vegas, NV (LAS)
Global Region
North America
Performance Details
Duration in minutes: 120
Available breakdown: 2/45 & 1/30
Availability
Please call or email with your dates of interest and we will verify with artist.
All images, audio, and video are copyrighted by their respective copyright owners.