Well-Strung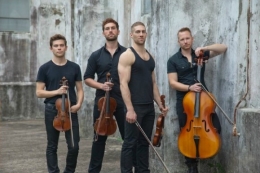 Photo Gallery
Video Gallery
Artist Information
Exclusively represented to
All Cruise Lines except: Norwegian Cruise Line
Related Categories
Biography
Well-Strung, a New York City based string quartet, derives their unique blend of vocals and strings by fusing classical music with the pop music of today. Members Edmund Bagnell (1st violin), Chris Marchant (2nd violin), Daniel Shevlin (cello), and Trevor Wadleigh (viola) spend their time making new music and touring internationally. The group was conceived by producer Mark Cortale and Chris Marchant.
Home location / airport
New York, NY (JFK)
Global Region
North America
Performance Details
Duration in minutes: 90
Available breakdown: 2/45
Availability
While every attempt is made to encourage each artist to keep their availability and from/to locations current, due to the nature of show business, it is not always possible to maintain 100% accuracy. Please keep this in mind when considering dates to make offers. The sooner you are able to make an offer the better so that we may secure the dates for you.
| | | | |
| --- | --- | --- | --- |
| From | Location | To | Location |
| 07/21/2017 | (*Call to Verify Dates & Location) | 01/01/2030 | (*Call to Verify Dates & Location) |
All images, audio, and video are copyrighted by their respective copyright owners.