Queen Forever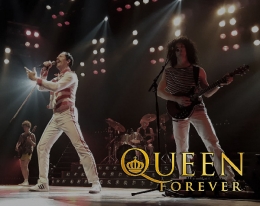 Photo Gallery
Video Gallery
Artist Information
Exclusively represented to
All Cruise Lines
Related Categories
Biography
Queen Forever will amaze everyone with their fantastic interpretation of the legendary British rock-formation "Queen." The band performs 100% live and plays all your favorite "Queen" songs during their two-hour set. Epic Queen-anthems such as: "Innuendo," "Bohemian Rhapsody," and the mesmerizing "Barcelona" are performed with passion and stellar ease.
Not only does the band mimic the sound of "Queen," they dress like them too, giving the audience the full audiovisual experience and "Queen" nostalgia.
Naturally, every great Queen Tribute needs a professional Freddie imitator. Our Freddie, in real-life Timothy Drake, competed on the Dutch RTL4-show "My name is.." in 2009 and took second place. Shortly thereafter the band was formed and in the following years toured The Netherlands, Spain, Italy, Great Britain, Germany and Mexico. Timothy even had the honor performing before the British Embassy in Kuwait, which is a true testament to his credibility as Freddie Mercury.
In 2016, "Queen Forever" were asked to portray the story and musical life of Freddie Mercury in the Dutch theatre production "I Want To Break Free," which they played successfully for 2 seasons spanning 67 shows in the Netherlands and Belgium. Currently the group plays - in addition to their regular shows - in the theatre production "Queen the Music;" a show where the music of Queen is central. Due to an almost sold out season 1, they will start the second season in January 2020! They've wowed tens of thousands of visitors and the audience is thrilled:
"Phenomenal, never seen such a great cover band, and I have seen many."

"Enjoyed this amazing band"

"I thought Freddie was lip-synching, but it's all live!"

'Brian May is sublime"

"Highlights are 'Innuendo' and 'Barcelona'''

"David Bowie was spot-on"
All in all, "Queen Forever" is an act you have to see, hear and experience!!
Home location / airport
Schiphol, Amsterdam, The Netherlands (AMS)
Performance Details
Duration in minutes: 180
Available breakdown: 3/60
Availability
While every attempt is made to encourage each artist to keep their availability and from/to locations current, due to the nature of show business, it is not always possible to maintain 100% accuracy. Please keep this in mind when considering dates to make offers. The sooner you are able to make an offer the better so that we may secure the dates for you.
| | | | |
| --- | --- | --- | --- |
| From | Location | To | Location |
| 09/16/2023 | Schiphol, Amsterdam, The Netherlands (AMS) | 03/01/2024 | Schiphol, Amsterdam, The Netherlands (AMS) |
| 03/10/2024 | Schiphol, Amsterdam, The Netherlands (AMS) | 01/01/2025 | Schiphol, Amsterdam, The Netherlands (AMS) |
All images, audio, and video are copyrighted by their respective copyright owners.