The Fercos "Untamed Illusions"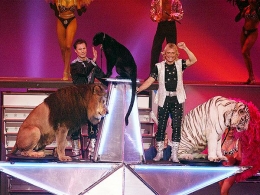 Photo Gallery
Video Gallery
No videos available at this time
Artist Information
Related Categories
Biography
The handsome, charismatic and multi-talented Fercos Brothers, Tony and Ferdinand descend from a long line of entertainers. Originally from Czechoslovakia, they are sixth generation performers and have been part of the family show business tradition since they were both five years old. Their family's internationally famous juggling and high flying acrobatic act, "the Flying Fercos," featured Tony and Ferdinand as well as their mother, father and their three stunning sisters, and won awards, medals and accolades all over the world and in the United States.
The Fercos won the coveted Gold Medal wile performing in Russia. There was also a fantastic high wire act incorporating lions, tigers and leopards for the first time on stage. Tony Fercos is recorded in the Guinness Book of World Records for juggling seven (7) ping pong balls with his mouth, and still performs this incredible feat in the current show.
The Fercos got their first big break while performing in Switzerland, where they were noticed by Mr. Frederic Apcar of the famous CASINO de PARIS at the Dunes Hotel in Las Vegas. Mr.. Apcar invited them to Las Vegas to perform. Since then, for almost 30 years, The Fercos have been based in Las Vegas performing and assisting one of the best producers in the business, Frederic Apcar. Together the Fercos and Frederic Apcar produced the best shows in Las Vegas. Tony and Ferdinand Fercos were able to experience every show that came to Las Vegas and enhanced their knowledge of "what works" as such. The Fercos, in addition to being star performers, have the knowledge of the "how-to" in show business, and have had the opportunity to work with other great producers like Don Arden, who produced some of the biggest shows in the world including: Hello Hollywood, Jubilee, and the famous Lido Shows at the Stardust Hotel. It is no surprise that Tony and Ferdinand became the protégés of many of the most successful producers.
Untamed Illusions is a magic show with big, flashy illusions, elaborate numbers with exciting dancers, fabulous music, gorgeous costumes and mind-boggling specialty acts. Choosing talents from around the world and working with the best and brightest choreographers, costume designers, set designers and more, the Fercos produce a phenomenal show in every venue in which they perform.
In recent years, the show has evolved into a major production that has audiences on their feet in such far-flung destinations as the South Pacific, the Far East, the Middle East, as well as on many of the world's most famous European stages, including Lido in Paris and right here on the East Coast in Madison Square Garden. Las Vegas, Nevada, has been the Fercos home for nearly 30 years and they have performed in many of the country's most prestigious West Coast venues. In 2002, Tony and Ferdinand won the International magicians Society's coveted Merlin Award for "Most Original magicians of the Year."
And why is this so? As the two brothers would say, "Tam work" is the key to producing a great show that people of all ages can enjoy and walk away after the final act thinking, "Unbelievable!" To which they say.... "Believe!"
The Fercos in Atlantic City, September 12-November 23, 2003:
"We were honored and happy to receive the Merlin Award," said Tony Fercos. "New Jersey has special meaning for us since the award presentation was right here in Atlantic City." "You could say my brother and I have been working toward this award our entire careers, constantly striving as a team to perfect and create new, better and bigger illusions for our audiences," added Ferdinand Fercos.
When the Fercos are home in Las Vegas, they and their captivating creatures live together in the family compound where the big cats have their own built-in swimming pool and special climate controlled quarters. For the next few months, Atlantic City audiences will have the chance to watch this spellbinding show and see the animals up close.
Home location / airport
Las Vegas, NV
Global Region
North America
Performance Details
Duration in minutes: 0
Available breakdown:
Availability
Please call or email with your dates of interest and we will verify with artist.
All images, audio, and video are copyrighted by their respective copyright owners.