Living On A Bad Name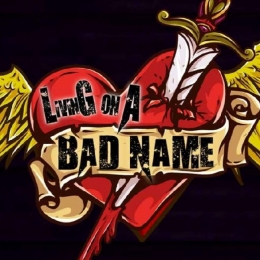 Photo Gallery
Video Gallery
Artist Information
"I am a huge Bon Jovi fan and when I saw these guys my mouth opened and I smiled from ear to ear. Best Bon Jovi tribute I've ever witnessed."
- Doreen Scanlon - ABC News
"The show was fantastic and a true stage production. It left some audience members wondering if they were the real Bon Jovi. Crowd pleaser and fair-tastic!"
- Jason Ryan - New York State Fair
"Lead singer Ken Pittman sounded spot-on, and even looked the part with his feathered hair, wearing sunglasses, jeans and a leather vest without a shirt...Living On a Bad Name covered all their namesake's biggest tracks, including "Blaze of Glory," "I'll Be There for You," "Wanted Dead or Alive" and "Bad Medicine." They also dug into album cuts like "Raise Your Hands" and "Shut Up and Kiss Me," as if they wanted to make sure every Bon Jovi fan heard their favorite song. If you closed your eyes, it sounded close to the real thing on several songs, especially on "Runaway" and "Born To Be My Baby.""
- Geoff Herbert - Syracuse.com
"I couldn't believe my eyes and ears when the band started to play. You know how it is when a tribute plays. You think, well they must love the real band and this must be as good as it gets for them but Living On A Bad Name, like only a few other national acts in the tribute biz, has made this a true artistic form. The attention they pay to details and the singer? Close your eyes and you'd lose money betting that Jon Bon Jovi was singing."
- DJ Michael Rock - WHFN Fun107
Exclusively represented to
All Cruise Lines
Related Categories
The Only Bon Jovi Tribute Ever Chosen To Perform in Place Of Bon Jovi
Biography
To book Living On A Bad Name is to guarantee success! A true concert performance, impersonating one of the most successful rock acts in history, Bon Jovi. This high energy band IS THE TRIBUTE BAND THAT REPLACED BON JOVI AT THE 2013 NY STATE FAIR after a national search by the NYSF talent buyers. World renowned guitarist Ethan Brosh is featured here. Ethan's records have such esteemed guests such as Dave Ellefson (Megadeth), George Lynch (Dokken), Mike Mangini (Stevie Vai & Dream Theater) and Greg Howe (Michael Jackson, Rihanna). Ethan has recently finished touring with Yngwie Malmsteen during the most recent North America tour as the opening act in 26 cities.
Jon Bon Jovi is played by Boston radio personality Ken Pittman and the roster is filled in with solid veteran players including Ken's son Keith on drums who is a world champion percussionist already, John Miker on bass guitar, and new edition Scott Poole on keyboards.
Home location / airport
Boston, MA (BOS)
Global Region
North America
Performance Details
Duration in minutes: 180
Available breakdown: 3/60 or 4/45
Availability
Please call or email with your dates of interest and we will verify with artist.
All images, audio, and video are copyrighted by their respective copyright owners.