Brent Webb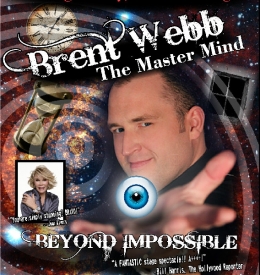 Photo Gallery
Video Gallery
Artist Information
"One of the best shows I have seen!"
- Rick Spath, Cruise Director on Crystal Serenity
"Absolutely Amazing Performance - Brent Webb brings Entertaining and Mind blowing skills to audiences of all ages leaving everyone craving more. Brent Webb delivers a great show for small or large groups with a different twist each time, a true professional. One of the best shows I have seen in 10 years as cruise director!"
- Todd Wittmer, Cruise Director, The Carnival Splendor
"The BEST show EVER on Crystal Cruises!"
- Member, Crystal Elite Society
"One of the BEST cruise shows I have ever seen!"
- Gavin MacLeod Star of TV's "Love Boat" and Princess Cruises Global Ambassador
"We first saw Brent 'perform' on a world cruise. Brent invited my wife and I to come on stage to assist him so we became part of his show. Brent managed to tell the audience exactly the name of the city my wife was thinking of (Venice) AND the name of a famous person he asked me to think about (Julia Roberts) - we were so blown away I felt compelled to take the microphone and assure the audience that it was totally real and that we had never spoken to Brent beforehand. That was only the start of the show - it got even better from there. We also had 'private' shows with Brent later with some friends and each time he completely blew us away. We are regular 'cruisers' on many cruise lines so have seen many shows in the last decade. Brent Webb is without a doubt our favorite 'entertainer' by far!"
- John Atkinson (Captain's Club cruiser with Princess, Crystal, and Royal Caribbean)
Exclusively represented to
All Cruise Lines
Related Categories
Biography
Mentalist Brent Webb will astound you!
He sees with your eyes! He hears with your ears! He thinks with YOUR mind!
Brent predicts your actions and thoughts with uncanny accuracy, from the name of your first love to the amount of change in your pocket.
He performs a high speed, interactive, full stage extravaganza that will have you questioning what is real and unreal. Webb's show is a breathtaking, dramatic, and energetic voyage to the farthest reaches of your mind!
The legendary Johnny Carson said of Webb, "I'm in total awe. You're the very best I've seen!"
Brent's career has taken him from his own show in Las Vegas to the far corners of the world. He has appeared with superstars like Dionne Warwick, Chaka Khan, Don Rickles, and Jessica Simpson.
One thing is certain; Brent's show is one you WILL REMEMBER FOREVER!
Take your audience out of the ordinary and into the realm of the impossible with Brent Webb!
Brent performs as a mentalist, corporate entertainer, and motivational speaker around the globe. He captures the imaginations of audiences everywhere with his energetic and refreshingly innovative presentations. Audience participation, side splitting comedy, and a magnetic display of showmanship are all creatively combined into a performance you will remember.
Webbs\' performance is an extraordinary blend of mystery, humor, psychology and intuition. Brent dazzles the mind as he challenges his audiences to question what is real and what is unreal, what is possible and what is impossible. Brent dramatizes the unknown, the unexplained, and the unbelievable. You don\'t just watch this performance, you experience it, through total audience participation. With his eyes completely blindfolded, Brent identifies personal objects you choose at random, and plays a dangerous game of "Russian roulette" with a razor sharp knife. He divines the serial numbers on bills of any denomination. Personal messages sealed in envelopes are described in intimate detail without ever being collected. Thoughts known only to you are revealed in a delightfully captivating experience. A wine glass BENDS and shatters without being touched.
Brent combines over twenty years of performing experience, together with a dynamic display of showmanship, to make you believe it is possible to capture thoughts you are simply thinking. Thoughts and ideas are exchanged in a dramatic demonstration of interactive communication.
Cruise Lines, Performing Arts Theatres, event planners, meeting planners, and destination managers repeatedly select Brent Webb to ensure a successful event. Trade shows, conferences, sales meetings, banquets, award dinners, seminars, product launches, hospitality suites, and conventions are all miraculously transformed into memorable and inspirational events.
In Brent\'s show the audience is treated to something that goes beyond simple entertainment. They are given an experience that will grab them from the moment Brent takes the stage and doesn\'t let go until the stunning end. The audience members minds take center stage as they quickly realize that their thoughts are no longer their own!
Brent has performed with Chaka Khan, Dionne Warwick, Don Rickles,and Dolly Parton, and has entertained stars like Johnny Carson, Shania Twain, Aaron Carter, and Jessica Simpson.
In the past year, Brent has created some startling new signature pieces! Audiences are going crazy and leaping to their feet! His promo video does not yet reflect his new show.
Home location / airport
Cleveland, OH (CLE)
Global Region
North America
Performance Details
Duration in minutes: 120
Available breakdown: 2/60
Availability
While every attempt is made to encourage each artist to keep their availability and from/to locations current, due to the nature of show business, it is not always possible to maintain 100% accuracy. Please keep this in mind when considering dates to make offers. The sooner you are able to make an offer the better so that we may secure the dates for you.
| | | | |
| --- | --- | --- | --- |
| From | Location | To | Location |
| 05/02/2023 | Kodiak, AK | 12/31/2023 | Cleveland, OH (CLE) |
All images, audio, and video are copyrighted by their respective copyright owners.